BANK
All About BANK
BANK is ByteLine Studio's payment services provider platform, designed to allow eCommerce users to easily manage their software based revenue. We built BANK to make sure that only the most minimal amount of oversight is needed. With BANK you are able to carryout both manual and automatic payments, scheduled payments, refunds, and see the most essential details relating to the revenue generated through your software. All of this is achievable through utilising the most well designed, and up-to-date PSP platform available.
- Money Made Manageable -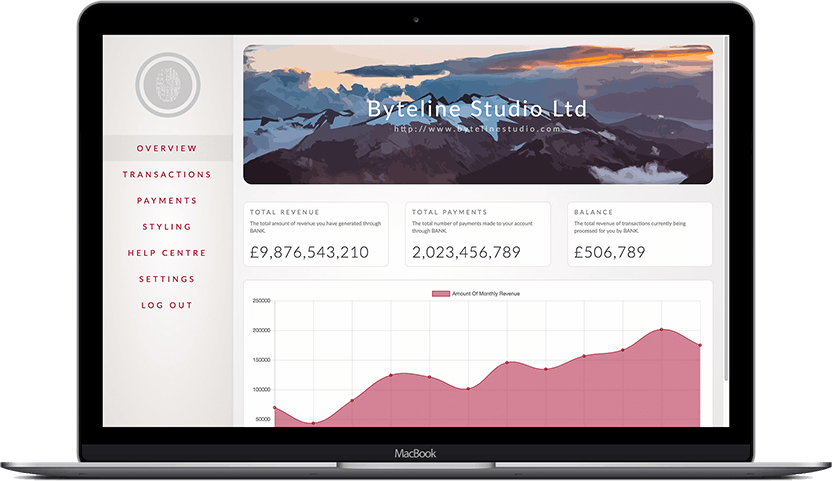 Simplicity
One system that is used to show you any transactions that flow through your software. BANK bring a whole new level of simplicity to software based money management.
Design
Modern. Sophisticated. Beautiful. Designed to compliment your software in all the right ways. We have designed BANK based on the most popular software layouts, for ease of use.
Speed
Limitless; BANK starts a whole new level of payment speed. Have your money at a click of your fingers. Control payment schedules, and input payment dates with just a few clicks.
Security
We are all afraid of the modern age hackers. Well, you can rest easy. BANK is built into our secure MySight content management system and requires a 2 stage verification.
Overview.
With BANK's overview page, you can view all of the most important statistics generated by your software from the point that BANK was implemented. This includes monthly revenue, total revenue, total payments, and current transactions. BANK give you all the most important stats, right at your fingertips.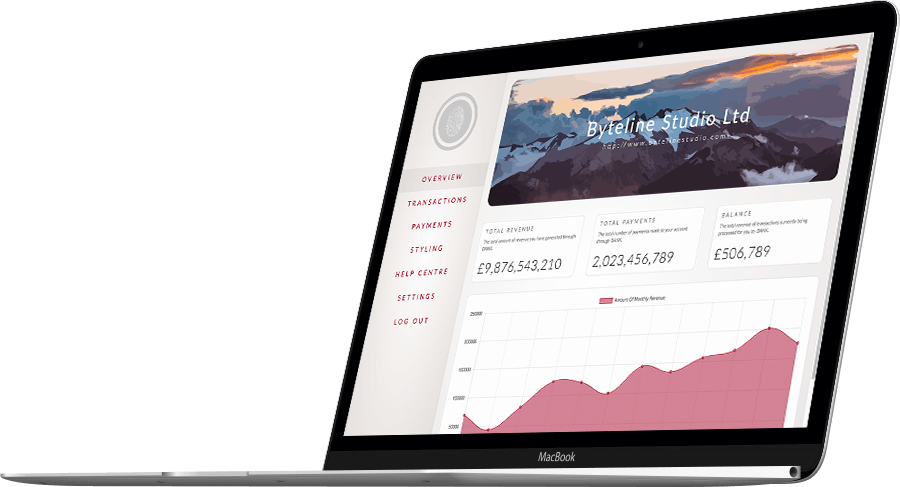 Transactions.
Inspect your full list of transactions coming in and out of BANK, with a simple and clear layout. The transaction page is built to allow you to easily search and oversee your software payments; helping you to keep an observant eye on your software money management. No confusing graphs. Just the important bits.
Payments.
Manual payments have never been so easy. Just access your payments page to insert a manual payment from any customer. On this page you can input your own invoice description, and fill in the payment date and schedule. Once you input all of the relevant information a receipt will be sent straight to the customers email address. No fuss. Just plain and simple, it can even be done over the phone.
Secure Payments,
Secure System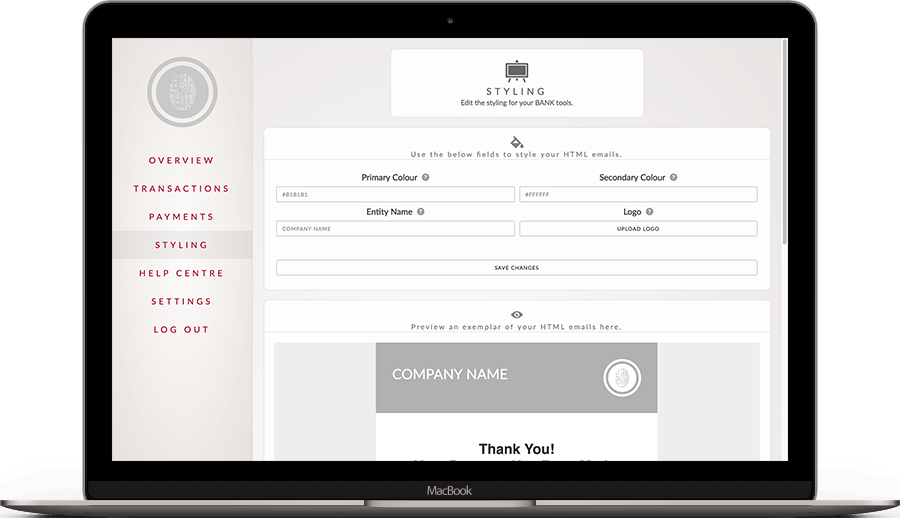 There are a wide range of perks to integrating BANK. Our system is built by the same teams that have brought you MySight and EME; assuring you of only the best in usability and design.
HTML Emails
Receipts, refunds and invoices are all automatically sent out through BANK. No need to fuss with outsourcing systems, just one click and you're done.
Secure Payments
Our payment system has MySight and Stripe security measures built in, so you're not just assured by our security, but the security of another entity.
Low Charges
Your payments are your payments. That's why BANK currently has one of the lowest charge rates available for payment service providers. It's even lower than PayPal!
Expandability
BANK is built with pure unity so that we can seamlessly update and add to our system, completely free of charge. We want the best for you.
Usability
Designed on some of the most modern themes and traditional layouts, we have made BANK usable for all ages and skill sets without any trouble.
Manual Payments
Need to take manual payments? No problem. BANK allows you to input manual payment details and set up payment schedules and dates with ease.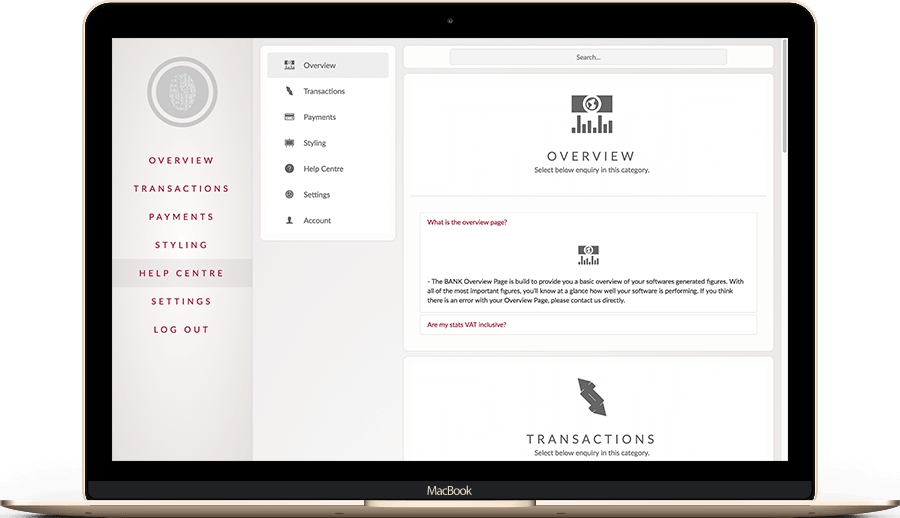 HELP CENTRE
Never be lost with BANK's inbuilt Help Centre feature that lists all pages and sections, with simple and short walkthroughs that help any user to understand all of the ins and outs, no matter their IT related experience.
TRAINING
It only takes 30 minutes to learn how to utilise BANK to maintain your software cash flow. We have successfully trained both software novices and advance technicians, all in the same timeframe.
24/7
ByteLine Studio is never far from reach. During the project processes you will be allocated a personal developer to be available during any chosen periods of time, so you are always in the best of hands.
Modern Style,
Strong Build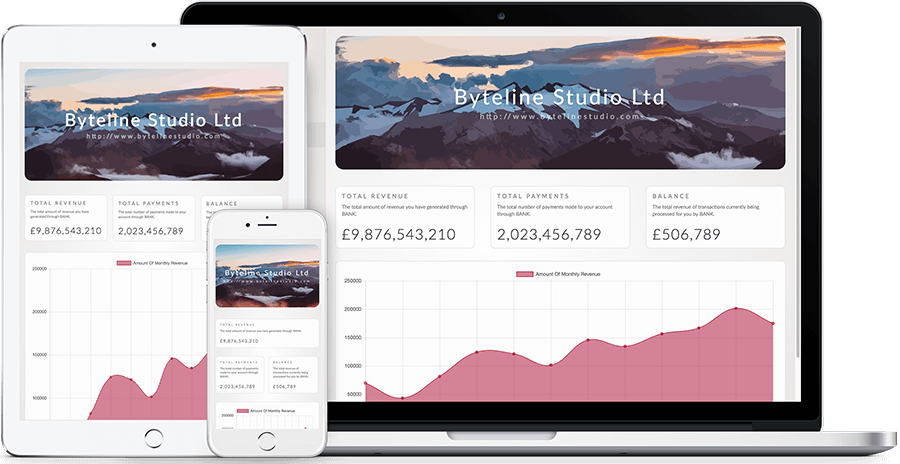 Limitless
BANK provides extended device compatibility, allowing you to open your BANK portal on either desktop or tablet. All portals are accessible at all times from any location. You may also login from multiple accounts at any one time. The only limitation is that the browser version being used to load BANK must be post-2012 in its version date. We currently have a BANK mobile application under development.

BANK Experience
The BANK experience is a fully abled demo of the BANK Payment Service Provider System. In the experience you will be able to view the full range of tools and pages used to oversee and maintain your softwares cash flow. BANK has been mastered by people of all ages and professions, all it takes is a free 30 minute training session and you're good to go.

Experience the most user-friendly PSP available, by clicking the below link.